Who are we?
Hello world! 👋
We are Sandoche and Patricia, from France 🇫🇷 and Spain 🇪🇸
We love travelling and when we travel we like to experience the places we visit as a local would do ✈️. Of course, one of our favourite things to try when travelling is the local food and we always end up looking in google for the best dishes that are a must try. One day we realised that we have a lot of friends around the whole world 🌍, and that it would be super good idea to gather them all together into one place to share their delicious food of their countries and to get to know them also a bit better.
As seen in
Backers
We can create a better and useful user experience for everyone by building synergies between your website and 'What to Eat In'. Contact us if you would like to be part of this community.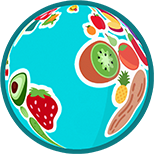 Contributors
This is not a complete list of dishes of the world, this is a list of friends and their personal tastes and recommendations 🤝. This project have let us also reconnect with old friends that we hadn't talked to for a long time, and of course, had made us wish to travel to all the countries we haven't visited yet! Thank you so much to everyone for collaborating and putting your effort into this blog. Keep always travelling and eating 😋🍪
How to contribute?
Did any of our friends forgot your favourite dish? send it to us and we will be glad to add the dish and your name to our curated list. You can use the Contribution Form or contact us directly in our Social Media 👇
Contact us
You can contact us at any social media, Facebook, Twitter or Instagram ❤️
Get notified of new countries !
Sign up to our newsletter and receive delicious food from amazing countries from time to time.